---
~ ~ ~ FRANCISCAN POTTERY ~ ~ ~
---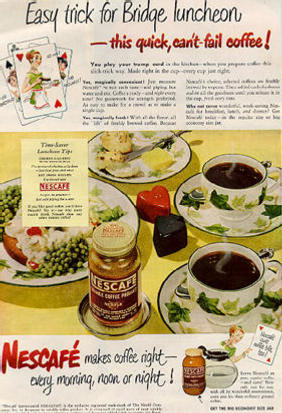 GH-649-35: Franciscan Ivy appears in a Nescafe ad in Good Housekeeping, June 1949. To order copies, please see Pottery & China: Magazine Ads &Illustrations - Color.

Autumn Leaf

SOLD OUT

Coronado

b&b plate, yel gloss $6
2 sherbet, coral gloss $15 2 10-1/4" dinner plate, lt turq satin, lt scr $16
7 b&b plate, lt turq satin $9
cup & saucer, yel satin, nk on saucer $13.50 set
cup, yel satin $10
sugar, covered, lt coral satin, flake on finial $24
gravy, attached liner, coral satin $31

Desert Rose

2 cup & saucer $12.50 set


Now available: Color laser copies of a 1953 DESERT ROSE 3/4 page ad! Shows plates, coffee pot, sugar and creamer, etc. Three sizes: 8.5" x 11" ($3.95), 8.5" x 14" (5.95) and 11" x 17" ($7.50), plus $1.75 First Class postage per order to a U.S. address. More information.


Oasis

saucer $4
2 6-12/" b&b plate $6

Gold Rush
California Poppies
Each year old Mother Nature celebrates
The days of '49. She recreates
A gold rush sweeping down across the fields.
At her command the good earth gladly yields
To each prospecting poppy plant, rich veins
Of precious ore to mine. So, this explains
How poppies tease our eyes with petal-gold
In flaunting banners gorgeous to behold.
~~Don Blanding
Let Us Dream, 1933
---
To place an order: Please e-mail My Glass Duchess to find out if the item is still available. All items are priced each unless specified "pair" or "set."
Shipping and handling: Priority Mail will be used for sending glassware, china and pottery up to 15 lbs. to a U.S. address. UPS is no longer available for breakable items. For small, lightweight items, First Class Mail may be more economical.
Via Priority Mail, required insurance is $1.65 up to $50.00 value and $2.05 from $50.01 to $100.00 value. For values over $100, please ask for a quote.
Higher rates apply for orders to Canada, Mexico or elsewhere. Insurance may not be available. More shipping information.
Cadia Los
MY GLASS DUCHESS
1916 Pike Place #12-162
Seattle WA 98101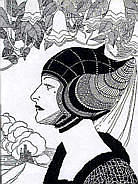 E-mail:
My Glass Duchess
duchess@speakeasy.org
Vernon Kilns
Pottery & China: Magazine Ads & Illustrations - Color
Don Blanding
Vintage China Dealer Directory
Return to
My Glass Duchess
---
Copyright © 1996-2003 Cadia Los, Revised - May 12, 2007
---