---
My Glass Duchess
~ ~ ~ NDGA 1999 CONVENTION ~ ~ ~
---


25th Annual
National Depression Glass Convention & Show
Little Rock, Arkansas
July 9-11, 1999
Depression, Elegant and Other Collectible Glass
---
Notes from Kent G. Washburn, NDGA President
Will It Grow?
The Silver Anniversary, National Depression Glass Association Convention Show and Sale in Little Rock, Arkansas, is successfully in the history books. Dorothy Fletcher, show chairperson, and Esther Mitchell, co-chairperson, and their crew of volunteers deserve our hearty thanks for the many hours they devoted to this Twenty-fifth Anniversary gala. Guest Authors Bob and Myrna Garrison, Philip Hopper, and Milbra Long and Emily Seate shared their expertise with many eager seminar attendees. Twenty-five collectors displayed their private collections in a festival of color, variety and rarity that completely ringed the show room floor in the Hall of Industry of the Little Rock Fairgrounds. Thirty-six of the nation's top dealers added their inventories to this overpowering array of wonderful glass. A Twenty-fifth Anniversary to remember!
At the NDGA Annual Meeting on Friday evening, July 9, business and activity reports were presented to the membership for their consideration. Additionally, Lydia McNeil, Southeast Regional Director and Nominating Committee Chairperson, announced the election results: Returning Regional Directors included Ann Stoetzer, West Coast, and Jean Spalding, Mid-Central. Also returning is Secretary, Carol McEwen. Jeff Jones is the new South Central Director. Jeff is a collector with many innovative ideas.
Although I was unopposed in the election, when Lydia announced that I had been elected President to succeed Jeff Settell, it was like being struck with a lightening bolt of responsibility and the realization that I was only one person. I would need the support of everyone if our dual goals of preservation and education are to be actualized. As President, my two primary responsibilities are long-range planning and the financial security of our organization. Joyce Nichols, Vice President, is the convention coordinator. I will be a proactive President who will be asking for you to support and to contribute to the future of the National Depression Glass Association.
As Jeff adjourned the annual meeting, everyone's pulse quickened as the preview doors opened to a room overflowing with beautiful glass. Membership gives one the privilege at being first. Jeff's farewell address to the membership will be included in the September issue of the News & Views.
On behalf of the NDGA, it is privilege to thank Jeff Settell, immediate Past President; Carol Clary, outgoing South Central Director; Cheryl Kevish, retiring News & Views Editor, and Katherine Orr, Show Packets, for their substantial contributions to the NDGA.
Saturday, July 10, dawned a sunny summer day. Collectors started lining up over an hour before the opening of the show. Anticipation filled the air. Glass lovers had traveled great distances to add to their collections.
During my seminar, the story of the amber Madrid Jell-O mold was again told. It was the first piece of glass that I ever purchased at a yard sale for the grand sum of 25 cents. It was the acorn that started my collection of Madrid in all colors and eventually led to a forty-eight place setting in amber. Today only the blue Madrid remains. It was the acorn from which I became a dealer, author, show promoter, and now your President.
One is not supposed to have favorite displays but please forgive me, the blue Madrid display by Richard Kopp of Tennessee has to be my sentimental favorite because it reflects one of my first glass loves. It was like reliving a first love. Displays are vital to our educational efforts and show the range of glass available. Each of the collections displayed was truly a labor of love. Thanks for sharing. It is unbelievable that Leigh and Michael Wyse came from Oregon to display their green Parrot collection. Diane Elliott from California displayed Iris and Herringbone and the Paden City display by Bill Walker came from New Jersey. Bud and Gladys Martin of Little Rock displayed rare glass that was an education unto itself. Other equally important displays came from Illinois, Arkansas, Florida, Oklahoma, Missouri, Indiana, and Texas. Each added their special touch to the convention. We hope to share better and more detailed coverage of the displays in future editions than I have been able to do here. All the seminar speakers augmented their presentations with glass to emphasize key points.
During my seminar I announced the appointments to the 2020 Committee responsible for long-range planning. I will chair it, and Peggy Scott, Past President, will consult and provide historical perspectives. The future belongs to the young. Committee members include Jeff Jones, Becky Richardson, Larry Cook, Victor Elliott, Fred Eldridge, Penny Drucker, and Kelly O'Kane. I donated my amber Madrid Jell-O mold to the NDGA in hopes that it will serve, too, as an acorn from which a national glass collection might grow.
The national had its fair share of drama, too. Phil Hopper proposed to during his seminar to Barb Birge of Lexington, Kentucky, and she accepted. Congratulations and thanks for sharing.
Murray's Dinner Play House provided a tasty meal and enjoyable evening for fifty-one theatergoers. My mother, Arlene Shields, laughed at and with the characters portrayed. Plus, she said it was a delight not to have to listen to me talk shop all evening. Definitely a very positive review.
Sunday dawned another beautiful day. At 8 a.m., the board assembled for its meeting. Ann Stoetzer volunteered to served as Coordinator of the show packets. Sarah VanDalsem, Membership Chairperson, headed the list of reappointments. Please provide Sarah with any updates or corrections to our membership roster. We are blessed with talented and dedicated people serving in all of our positions. The post office box remains unchanged.
The Board unanimously authorized the establishment of a National Glass Collection and to solicit funds and glass for it. The Board authorized that an Acquisition Committee be formed. Bob Conner will chair this committee and members will include Gwyn Key and Thelma Hayes.
Sunday afternoon Jeff graciously passed on to me his "President" bar that he had used with his badge while President. It is now proudly on my badge. This symbolic passing of the torch was captured on film by Julian McEwen. More importantly, Jeff has agreed to serve a one-year term as ex officio member of the board of directors. His input during this transition period will be invaluable.
There is always a touch of sadness as a Convention comes to a close and all the beautiful glass is boxed for its trip back to from where it came. One knows who their true friends are when it comes pack out time. As I closed the building and said good night to the security guard, through the haze of my tiredness, I was optimistic. Just by word of mouth, over twenty pieces of glass has been donated to our collection. The future is before us.
Monday, another perfect day in Little Rock bloomed as I said good-bye to my family and friends. I eagerly awaited another negotiating session with Cyndi Schimsa. Cyndi agreed to become the Editor of the News & Views. She is the jewel we needed for that position and I have asked her to introduce herself in her column. You only have to see her bright smile and sense her deep love for glass to understand she is the right person for the job. She will edit, compile, etc., but input is necessary from each of you for the newsletter to be a meaningful communications tool.
As my old van and I communed down Interstate 30 towards home, we decided that it was a successful convention and the future is bright but still to unfold. Each member of the National Depression Glass Association will shape that future.
Will It Grow?
Kent
Reprinted with permission from the July-August 1999 News & Views
---
For Information:
Membership Dues
Individual: $12
Associate: $3
Club: $25
Corporate: $25
3 yrs: $30, $9, $75, and $75, respectively
Memberships include monthly newsletter, News & Views
Make checks payable and mail to:
NDGA, Inc., P. O. Box 8264, Wichita, KS 67208-0264
---
Cadia Los
MY GLASS DUCHESS
1916 Pike Place #12-162
Seattle WA 98101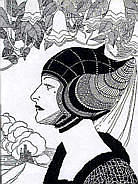 E-Mail My Glass Duchess
duchess@speakeasy.org


Member NDGA
NDGA 2000 Convention, Denver, CO
NDGA 1998 Convention, San Antonio, TX
1998 NDGA Convention Displays
Depression Glass Clubs
Return to Photopoint Album - NDGA Displays
Return to My Glass Duchess
---
Copyright © 1996-1999 Cadia Los, Revised - October 10, 1999
---