---
MY GLASS DUCHESS
PACIFIC NORTHWEST
POST CARD CLUB
---
The Pacific Northwest Post Card Club meets the first Sunday of each month from September through June at the Lake City Community Center, 12531 - 28th Avenue NE, Seattle, Washington. Buy-sell-trade from 10:30 a.m. to 3:30 p.m., with a brief business meeting at 12:30 p.m.
2010 Meeting Dates
January
February 7
March 7
April 4
May 2
June 6
September
October 3
November 7
December 5

2010-2011 Calendar
With approximately 200 members, the club attracts collectors and dealers from all over the Puget Sound area as well as Eastern Washington. Members also reside in Oregon, California, Alaska, Idaho, Montana and British Columbia as well as in Hawaii, Colorado, New Mexico, Minnesota, Iowa, Kansas, Ohio and Pennsylvania.
Annual membership begins September 1 and includes a subscription to the newsletter, The Moccasin Box. Dues are payable in U.S. funds.
U.S. Family Membership ..... $10
Canadian Family Membership ..... $15
Overseas Family Membership ..... $17
New U.S. members who join after January 1 pay only $6 for the remainder of the dues year.
Additional information: Pacific Northwest Postcard Club, Seattle, Washington
Postcards and More
Featured postcard: The Alamo, Cradle of Texas Liberty, built in 1718 by Franciscan monks in San Antonio. This 1913 postcard was published by W. R. Elliot, Chestertown, Maryland, with lithography by A. Hoen & Co., Baltimore.
Vintage postcards and photos are available as screen-savers from Webshots - My Glass Duchess.
The Postcard Collectors Club is an online group of postcard enthusiasts who share their collections and buy, sell or trade around the world.
From About: Antiques comes a Santa Postcard Collection, with permission to use the cards as holiday clip art.
Postcard Resources provides links to hundreds of websites of interest to postcard collectors and dealers.
Other Postcard Clubs
Webfooters Postcard Club meets monthly from 10 a.m.-5 p.m. on the third Saturday (except July which is 2nd Saturday) at 121st & Prescott in northeast Portland, OR, near 122nd & Sandy Blvd.
Vancouver Postcard Club meets on the third Tuesday of each month from 7-10 p.m. (except July and August) at Hastings Community Centre, 3096 E Hastings St., Vancouver, BC, Canada.
Inland Northwest Post Card Club meets on the second Sunday of each month, regardless of holidays. Meetings are from 1-5 p.m. at the Vintage Post Card and Stamp Shop, 1908 N Hamilton, Spokane, WA.
San Francisco Bay Area Postcard Club meets on the 4th Saturday of each month (except December). Meetings are from 12-3 p.m. at Fort Mason Center, Room C-210, Laguna St. at Marina Blvd., San Francisco, CA.
More postcard collectors clubs are listed in the Barr's Postcard News directory and at Postcard Clubs and Societies Worldwide.
---
Cadia Los
MY GLASS DUCHESS
1916 Pike Place #12-162
Seattle WA 98101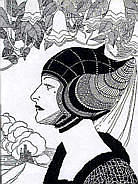 E-Mail
My Glass Duchess
duchess@speakeasy.org
Please explore
Postcards
Maps/Menus/Miscellany
Sheet Music/Pamphlets/Labels
Magazine Ads & Illustrations
Value Guides: Paper/Ephemera
Auctions
Return to
My Glass Duchess
---
Copyright © 1996-2010 Cadia Los, Revised - March 16, 2010
---