Ads are designated full/half page color (FPC/HPC) or full/half page black and white (FPB/HPB). Some black and white ads have a single-color overlay. Most half-page ads are vertical; for smaller ads, exact image dimensions are provided.
Because inventory changes almost daily, it would be a good idea to inquire if a specific ad is still available. Your "wish list" is always welcome.
To place an order: Please specify item code and description. Send a check or money order payable in U.S. funds to My Glass Duchess or Cadia Los for the amount of your purchase, plus postage. Items are priced each, except when marked "both" or "all."
Shipping and handling: To U.S. addresses, please add $2.50 per order to help defray First Class Mail costs. For Priority Mail or international rates, please inquire. More shipping information.
Cadia Los
MY GLASS DUCHESS
1916 Pike Place #12-162
Seattle WA 98101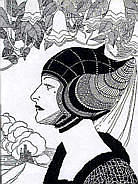 E-mail: My Glass Duchess
duchess@speakeasy.org
Please explore:
Ephemera: Magazine Ads & Illustrations A - D
Ephemera: Magazine Ads & Illustrations E - H
Ephemera: Magazine Ads & Illustrations I - L
Ephemera: Magazine Ads & Illustrations M - Q
Ephemera: Magazine Ads & Illustrations R - Z
Auctions

Return to My Glass Duchess