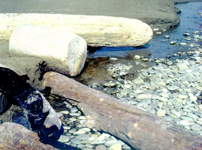 My Clinical Psychology Practice
Clinical Psychologist
---
Direct clinical services that I offer include:

· individual, couples, and family psychotherapy
· preventive education.
· consultation and continuing education for other healthcare professionals.

Over the years, I have refined an approach with clients that is conversational and interactive (using a "seamless" blend of many techniques). Though I can be described as "technically eclectic," my theoretical stance is more integrative (using coherent rationales when choosing techniques). After careful and close observation, I offer respectful responses designed to encourage new options for living well.
---
The core traditions which inform this integration of therapeutic tools for growth and change include:
general systems theory, social learning theory, developmental psychology, social psychology, research regarding the common elements of influence in psychotherapy, existential-humanistic psychology, hypnotherapy, psycho-neuro-immunology, and the world's "wisdom literature." My wide-ranging life experiences and extensive supervision within many approaches to psychotherapy have led me to a versatile, and yet comfortable blend of techniques.
---