---
EPHEMERA:
MAGAZINE ADS & ILLUSTRATIONS:
I - L
---
This section contains subjects from Illustrators to Lamps & Lighting. We are in the process of adding material to all categories.
Please see Magazine Ads & Illustrations M-Q for subjects from Miscellaneous to Pottery & China.
The magazine name and date of publication comprise the item code at the beginning of each description. For example, HB-1053-76 means House Beautiful, October 1953, item 76 in a group of ads or illustrations from that issue.
Ads are designated full/half page color (FPC/HPC) or full/half page black and white (FPB/HPB). Some black and white ads have a single-color overlay. Most half-page ads are vertical; for smaller ads, exact image dimensions are provided.
To place an order: Please send a check or money order payable in U.S. Funds to My Glass Duchess or Cadia Los for the amount of your purchase, plus postage. Items are priced each, except when marked "both" or "all."
Shipping and handling: To U.S. addresses, please add $2.50 per order to help defray First Class Mail costs. For Priority Mail or international rates, please inquire.
E-mail: My Glass Duchess
duchess@speakeasy.org
---
LD-83129-04..........Met Life Insurance ad, James Montgomery Flagg illus., FPB..........$3.00
LD-92129-04..........Parke, Davis & Co. ad, Wm. Meade Prince illus., FPB..........$3.50
CG-835-01..........Cover, Nelson Grofe illus., Scottie dog, frog in lily pond, FPC..........$6.00 as found
CG-835-22.........."Years of Grace" article by Dr. O. E. Baker & E. H. Taylor, cartoons by C. H. Sykes, 2 pp, FPB(2).........$3.50
CO-122835-01.........."Play Something Simple" story by Laura Z. Hobson, illus. by Al Parker, 4 pp, FPB(4) w/red overlay.........$7.00
CO-122835-02.........."Callingham's Girl" Part 2 of serial by Arthur Somers Roche & Ethel Pettit Roche, illus. by Mario Cooper, 4 pp, FPB(4) w/red overlay..........$6.00
CO-122835-03.........."China Venture" story by Sidney Herschel Small, illus. by Dan Sweeney, 5 pp, FPC(1), FPB(4)..........$6.00
CO-122835-06..........Cover, couple under the mistletoe, Robert O. Reid illus., FPC..........$5.00 as found
SEP-40139-28..........Cover, J. C. Leyendecker illus., Black Americana theme; label, torn edges, FPC..........$18.00 as found
LHJ-322-01 .......... Jell-O ad, FPC .......... $7.50
WHC-841-06..........Jell-O ad, recipes, FPC..........$4.00
LD-90729-04..........General Electric refrigerator ad, FPC..........$3.50
CG-835-20.........Kalamazoo Stove ad, HPB..........$3.00
SEP-40139-08..........Toastmaster ad, FPB w/red overlay; SEP-40139-09, Camel Cigarettes ad w/Harlequin Great dane, reverse, FPC..........$6.50 both
SEP-40139-23..........Stewart-Warner refrigerator ad, FPC..........$3.00
SEP-40139-26..........Norge refrigerator-freezer ad, FPB..........$2.00
L-101440-25.........."Professor Shows How to Do Experiments in the Kitchen," illus. article, 3 pp, FPB(3)..........$3.00
BHG-1145-11..........Thor Automatic Washer ad, FPB w/green overlay..........$3.00
AH-847-08..........Kelvinator range ad, FPC..........$3.00
AH-947-01.........."Your New Washer" illus. article, 2 pp, FPB(2)..........$4.00
AH-947-09..........Norge refrigerator ad, FPC..........$4.50
AH-947-10..........Youngstown Kitchens ad, FPC..........$4.00
AH-1047-02..........Proctor toaster ad, FPC..........$5.00
AH-1247-02..........Flint Stainless Kitchen Tools ad, HPB w/yellow overlay..........$2.00
AH-1247-03..........Proctor toasters and iron ad, FPC..........$4.50
AH-1247-06..........Servel refrigerator ad, FPC..........$3.00
AH-1247-08..........Bendix Automatic Washer ad, signed "Pony" illus. of Santa Claus, FPB w/red overlay..........$4.00
AH-148-02..........Servel refrigerator ad, FPC..........$3.00
AH-651-04..........Speed Queen ad, HPC..........$2.00
AH-651-05..........Servel refrigerator ad, FPC..........$3.00
AH-651-13..........General Electric ad, man washes dishes, FPB..........$3.00
HB-453-12..........Martex dish towels ad, FPC..........$2.00
BHG-146-22.........G.E. Fluorescent lamps ad, FPB..........$2.50
LYH-1052-08..........Lightolier ad, FPC..........$2.00
HB-753-11..........Bakelite Vo. "vinylite" lampshades ad, FPC ..........$4.00
HB-953-33..........Lightolier ad, FPB..........$3.00
HB-1053-76.......... Lightolier ad, FPC..........$2.50
HB-1153-51..........Lightolier ad, FPB..........$3.00
---
To place an order: Please specify item code and description. Send a check or money order payable in U.S. funds to My Glass Duchess or Cadia Los for the amount of your purchase, plus postage. Items are priced each, except when marked "both" or "all."

Shipping and handling: To U.S. addresses, please add $2.50 per order to help defray First Class Mail costs. For Priority Mail or international rates, please inquire.

Cadia Los
MY GLASS DUCHESS
1916 Pike Place #12-162
Seattle WA 98101

E-mail My Glass Duchess
duchess@speakeasy.org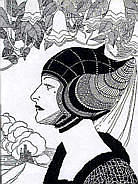 Please explore
Ephemera: Magazine Ads & Illustrations A -D
Ephemera: Magazine Ads & Illustrations E - H
Ephemera: Magazine Ads & Illustrations M - Q
Ephemera: Magazine Ads & Illustrations R - Z


Return to Ephemera: Magazine Ads & Illustrations

Return to My Glass Duchess
---
Copyright © 1996-2010 Cadia Los, Revised - April 20, 2010
---